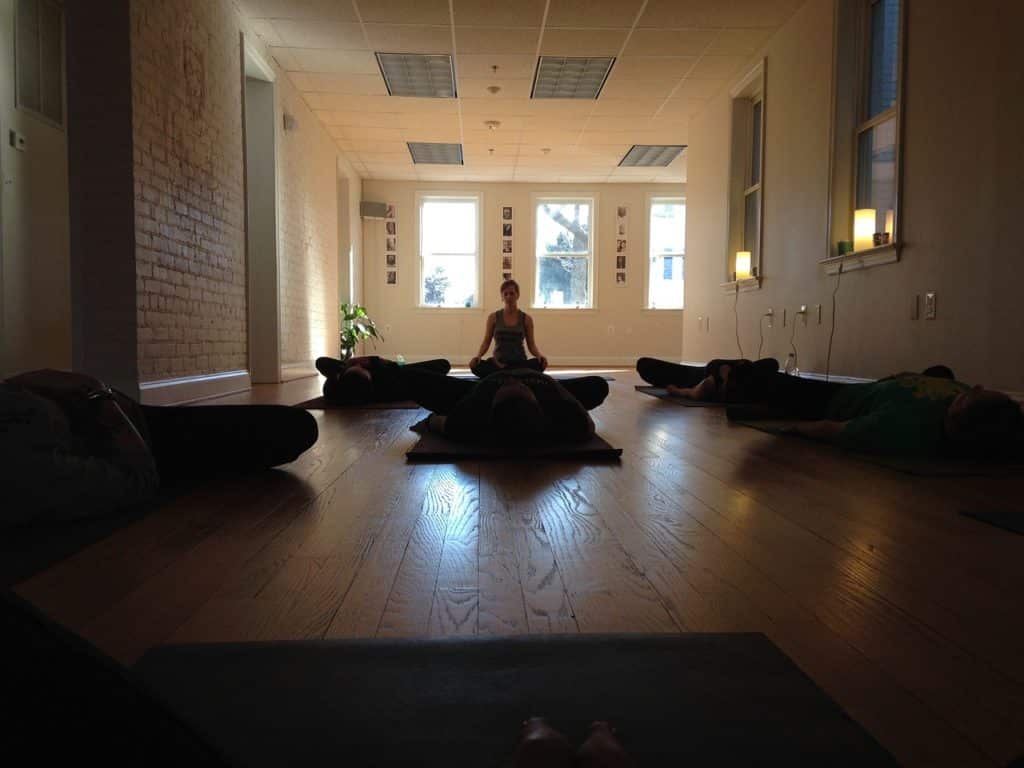 Now that you've completed a yoga teacher training program you are probably excited to share all that newfound information with your community. But what is the best way to accomplish this? As the prevalence of yoga offerings continues to increase ( in the US alone the number of practitioners is well over 36 million) it can be difficult to figure out what route to take with your teaching. Should you focus on opening your own studio, or put your efforts toward getting hired at an existing facility? Are you drawn to teach a specific population or style of yoga? It may be helpful to keep the following pros and cons in mind as you explore these questions, remembering that, just like in your yoga practice, finding your path is often a balancing act of give and take, trial and error.
1. Working at an Established Studio Provides Opportunities Beyond Just Teaching. There are many benefits to teaching at an established studio, and as a new teacher this can be a great way to network with other teachers and share your services with an existing community. Other rewards are the opportunity to take a variety of classes from other teachers and the chance to learn about the inner workings of an established venue. That being said, once you start teaching at someone else's studio you are their employee and must abide by their policies and procedures. If there is a studio that you enjoy attending, reach out to the owner and ask if you can talk to them about subbing or adding a class to the schedule. Be prepared to sell yourself and your services, and if you're offered an interview, show up ready to teach a demo class. If you're having a hard time getting something set up, or if you're not hearing back from a studio, don't give up! Remember to keep focusing on your own practice, and trust that all will come in time.
2. Opening Your Own Studio is a Serious Business Venture. If opening your own studio has always been a dream, don't be afraid to take a leap of faith and go for it! Running your own studio provides much more freedom than guest teaching at an already established place, but is also means you are responsible for making sure everything is working smoothly. Remember that, while yoga is a heart centered practice, running a studio is a business, and it will be more likely to succeed if it has a solid framework in place. Set up a business plan, with clearly articulated goals, and make sure to have an accountant on board or be prepared to do the books yourself. Talk to other studio owners about some of their challenges and successes, and try to plan your classes so that they offer something a little bit different than the other local studios.
3. Remember to Market Your Services Both as a Teacher and as Studio Owner. Whether you're a guest teacher at an existing studio or a studio owner, a successful marketing plan will be an important component of success. As a guest teacher you have the benefit of marketing assistance from the studio, but if you're opening your own business you will be on your own when it comes to promotion. Utilize social media platforms, flyers, and good old-fashioned word of mouth. Consider making coupons for introductory class offers, and above all else, maintain self confidence in what you have to offer!
4. Don't Sell Yourself or Your Services Short. Setting up a price structure for classes can be hard. As yoga teachers we want everyone to be able to experience the amazing benefits of the practice, regardless of economic status. Unfortunately, we can rarely afford to offer our services for free. If you're teaching at an established studio the owner will most likely already have a price system in place. If you're starting out on your own consider looking in to what other studios charge for classes, and compare that to your budget and business plan. Once you decide on a price that feels right, stand by that! Your experience and training were not cheap, and the services you offer are valuable.
5. Whatever Path You Take, Always Remember to Lead from the Heart. While there is no doubt that the financial component of offering yoga services is important, don't lose track of the fact that yoga is a heart centered practice. Maintaining the yogic components of trust, compassion, and gratitude will help you stay focused on the deeper purpose behind your teaching, and will imbue your classes with authenticity and love.
[indeed-social-media sm_list='fb,tw,goo,pt,email' sm_template='ism_template_20′ sm_list_align='horizontal' sm_display_counts='false' sm_display_full_name='true' ]
Like this article? Show Roseanna some ♡!