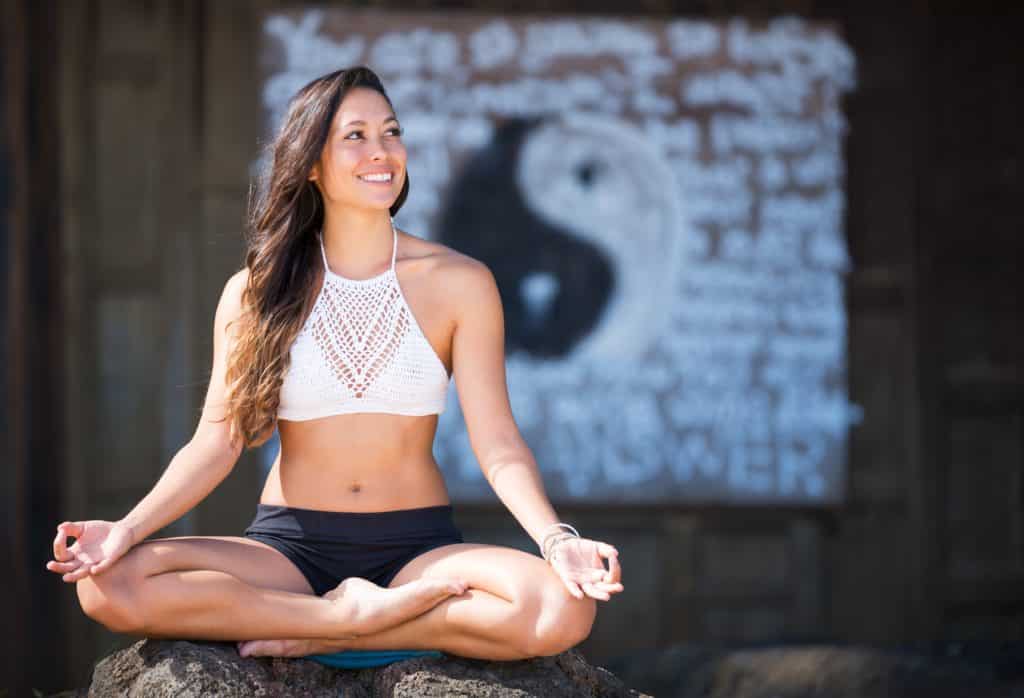 Do you remember the first time you experienced the remarkable calm and vitality that comes from practicing yoga and realized that it would be pretty great if you could do this for a living? Why not? After all, there have certainly been others who made it work for them. And in an otherwise mad world, vitality and inner peace seem to be among the more sought after commodities, which might explain the roughly 16 billion dollars spent on yoga in 2016. But now that you've just spent thousands on teacher training and are poised to face the world as a freshly minted RYT, you may be wondering just how to go about bringing in a return on your investment for starters.
Part art form, part spiritual path, and part fitness training, teaching yoga is one of the more alluring jobs out there. But as anyone who has made their bones in any successful occupation will tell you, skill alone isn't enough. While being an adept yogi takes lots of asana practice, becoming a prosperous yogapreneur requires another kind of practice altogether- – that of business.
So now that you've harnessed the power of Now and thoroughly questioned the nature of this endless maze we call reality, it's time to cross that final desert: making money.
1. Start with a business plan.
No business, no matter what it is, can gain any real traction without a plan. A business plan is simply a map that guides you from where you are to where you want to go. Of coarse in entrepreneurship, there's no guaranteed path to success. And knowing where you want to go is frankly more important than how you get there. That being the case, you can expect your plan to change and adapt to new situations as they arise. Still, writing down a detailed strategy will get you moving in the right direction and keep you on course. Web applications like liveplan can help you create your strategy with helpful tips and examples to simplify the process with focus, clarity and optimization.
As a yoga teacher, you are the captain of your own ship. If you want to sail to new horizons, it's
important to plan out your yoga business just like you would any other.
2. Don't expect to make a living teaching classes alone.
Remember that 16 billion dollar industry we mentioned earlier? Unfortunately, most of that wealth apparently hasn't trickled down to many yoga teachers yet as far as we can tell. Don't get us wrong, teaching classes can be a great experience- – fun, fulfilling, and rewarding in its own right. But unless you're in the game for reasons purely philanthropic and genuinely don't need the money, chances are you still have to put food on the table. And in that respect, teaching yoga classes is a terrible way to make money.
This comes down to two important factors. The first is purely mathematical. If you are just starting out and making around $20 per class, that means you would need 5 classes per day every day of the week just for a bare minimum living. Considering the amount of time, energy, and gas money it takes to plan, travel to, and teach each one of your 35 weekly classes, no one would blame you if you start to get the sense that the numbers in this equation just don't add up!
The second is logistical. It is rare that yoga teachers are able to acquire 35+ classes per week unless you have your own studio and can make your own schedule. Even in a city where there's plenty of demand for yoga, keep in mind that there is also just as much competition from other instructors. And then there's the traffic. Crisscrossing all over town day in and day out through traffic that only seems to slow to a crawl when you really have to be somewhere in 5 minutes WILL take your zen away.
And the third (we know we said there were only two factors- – but we lied) is the fact that there appears to be built in self-sabotage within the yoga industry itself, in that a common approach is to provide teaching services within the context of a spiritual paradigm that tends to disavow the material and recoil at personal gain. Non-attachment and such. 'It's not about the money'.
Ergo, there is an incredible number of yoga teachers out there teaching free or donation based classes. That fact alone significantly drives your value down perhaps like no other profession in the country. The knowledge of this fact by people who hire yoga teachers makes it difficult if not impossible to negotiate decent compensation because 1.) they are forced to compete with rock bottom prices and 2.) they are aware that they could probably find a truckload of eager yogis who are more than wiling to work for next to nothing. In other words, it's all about your perceived value.
But not to worry. For the career yogi, teaching classes is an invaluable resource but just not as a significant source of income all by itself. Instead of running yourself ragged for peanuts, it's best to have a strategy of how you will set up your classes to be a win for your students, a win for your studio, and a win for you.
3. Before you even start teaching your first class, create content that can generate passive revenue.
If you haven't seen the Instagram profiles, YouTube videos, and Twitter feeds of some of the biggest yoga and fitness influencers like Adriene Mishler, Joe Wicks, and Sadie Nardini, now is the time to take note. Marketing digital content is the business model for the social media age.
Creating marketable content like videos, e-books, and downloadable courses gives you the potential to exponentially multiply the number of people you're able to both reach as a teacher and as a yogapreneur. And with the plethora of digital platforms like Amazon, Udemy, and Vimeo Pro available, there's no shortage of ways you can monetize your work and fit these streams into your overall business plan.
In general, the more passive revenue streams the better, but quality is always far more important than quantity. So take a thoughtful and measured approach in determining what you want to sell based on who it is you want to sell to. The more specific your target demographic is, the more you can create content specifically designed for them, and the more likely they will click that sexy 'buy' button and proceed to the checkout.
4. Strategically pick your venue.
Before committing to teaching at any location, always have clear goals in mind of how you want the space to work for you. Deciding whether you are going to teach at your own studio, someone else's studio, or rent out spaces is a topic worthy of its very own post. But for our purposes here, we'll break it down to an analogy Sun Tzu style: choosing your location is like a general luring the fight onto a field of their choosing. Knowing the terrain and how to maneuver on it to elicit an advantage is half the battle. The same principle can be applied to teaching yoga. Your field of battle, so to speak, can either stack the odds in your favor or simply end up wasting your time.
Ideally, you want your yoga venue to be flexible enough – pun totally intended – to accommodate a variety of teaching scenarios like standard classes, private and semi-private sessions, and workshops.
Weighing your best option means asking yourself some key questions including: Will the location bring in the right demographic for your teaching style? Will that demographic resonate with the content that you have created? Will the owners of the studio allow you to promote your personal brand? If the answer to any of these questions is no, it's best to move on. But once you have found a place that is right for you, you will have a base of operations from which to implement your strategy.
5. Don't be shy about selling to people in your class.
We're not advocating that you wander through rows of yoga students hawking trinkets and ranting breathlessly about insane deals at unbeatable prices like it's a snake oil savings frenzy on HSN. We know that self promotion can seem a bit like karmic anathema for a lot of yogis.
But consider that what you have to offer as an instructor doesn't only last for a mere 60 minutes. Making your more in-depth work available to your students is just a natural extension of your teaching and if you believe that you have created something of true value that would benefit others, then by all means don't hold out! With a built in audience, yoga classes are a perfect opportunity to water the seeds of passive revenue and contribute to the growth of a career.
Also keep in mind that marketing your content can always be done in tasteful and appropriate ways. A succinct announcement after savasana could be all it takes to bring awareness to your online presence and turn hourly students into subscribers to your brand.
6. Network.
Building your network is a long recognized pathway to success, and in the digital age, this encompasses both online and offline relationships.
To state the obvious, it's essential that you are active on social networking sites like Facebook, Twitter, Instagram, and LinkedIn, among others depending on your particular niche and demographic. In particular, Prana2thePeople focuses specifically on fitness networking. Follow, friend, and reach out to local yoga teachers, studio and gym owners, and even contacts in corporate or university departments who are in charge of wellness programs.
Keeping a relevant and engaging stream of content not only lets others know what you're all about and how you can help them, it creates the opportunity for people to communicate with you directly. If you can make these interactions positive, meaningful, and beneficial, you may very well find your prospects growing and in the process, discover an eternal entrepreneurial truth: just as much as skill and vision, businesses are built on relationships.
The importance of developing business relationships cannot be overstated, because ultimately teaching yoga is a people business and more than anything or anyone else, you are the best brand ambassador you will ever have.
7. Retreat
You've built up your brand and established street cred with content marketing. You've taught your classes like a boss and cultivated a thriving network. Now it's time to tie it all together and take the ultimate working vacation.
Planning a yoga retreat is an involved endeavor, and you will have to calculate the viability of the trip, taking into account the costs of a variety of factors including booking the location, travel costs, and acquisition (advertising), plus the risk of taking on all of those costs only to end up not getting enough sign-ups to make it work in your overall cost/benefit analysis.
With all of that said, when retreats are done right, they can be lucrative. For example, if you've been savvy enough to get say 20 sign-ups for $500 each at a venue that charges around $150 per night per guest, well… you do the math. That, as they say, is not bad for a weekend.
If making yoga a part of your life's work is something that you really want, the good news is that with the right approach and plenty of hustle, it can be attained. While the suggestions outlined above can give you a basic idea of how to teach yoga gainfully, they only begin to scratch the surface. Remember that the more you learn about business and marketing, the more you will discover new ways to build your practice into a sustainable source of income.
And with an ever increasing interest in yoga across every demographic, there doesn't appear to be any shortage of opportunity to manifest that reality.
[indeed-social-media sm_list='fb,tw,goo,pt,email' sm_template='ism_template_20′ sm_list_align='horizontal' sm_display_counts='false' sm_display_full_name='true' ]